Spotlight: Two Familiar Female Leaders
Did you know that Carolina Psychological Associates is a female owned practice?
Well now you do!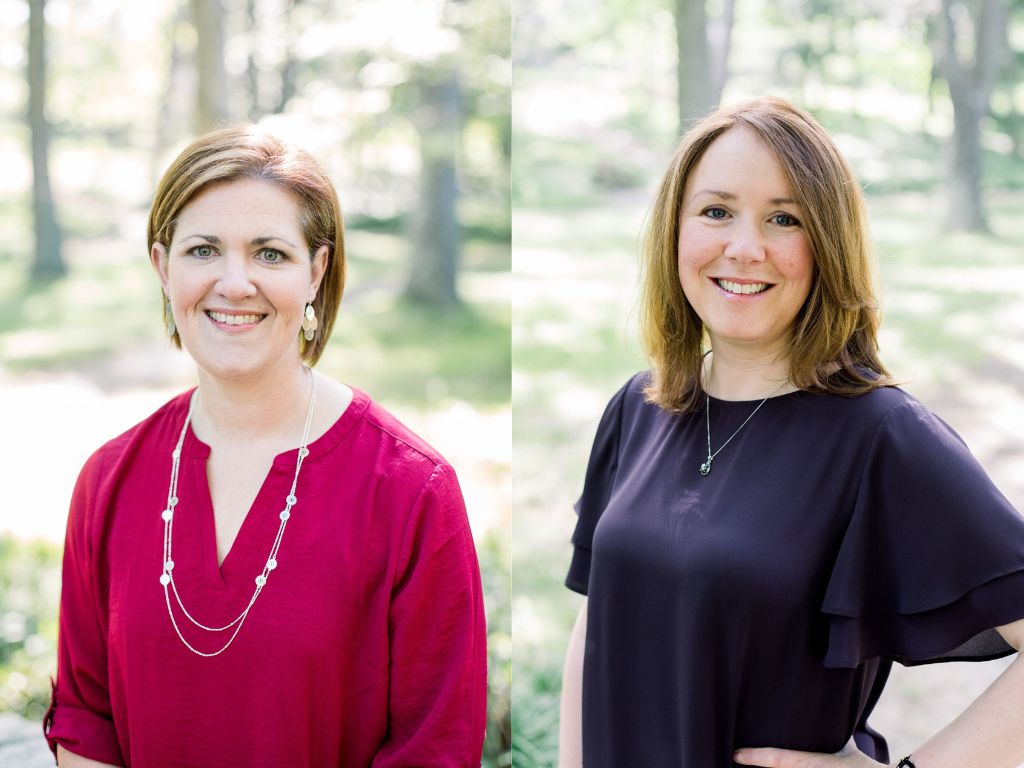 The familiar faces of Sarah Gates, MA and Heather McCain, Psy. D have worked together to build and grow an already strong private practice. They are both still practicing clinicians in the Greensboro office and do a large amount of behind-the-scenes work to ensure CPA is providing quality services. 
They both prefer to stay out of the spotlight, but agreed to share some information about their personal experiences as women in leadership. Continue reading to learn more! 
Who is a female inspiration to you?
Sarah: I have been fortunate to have a few female figures in my life who have inspired me. Two that stand out however, are my mom and my internship supervisor, who both inspired me to be kind, compassionate, to always persevere and stand up for what you believe is right (especially when there is adversity), to take the time to learn someone's story, and to be an approachable leader who values those around them.   
Heather: In graduate school, I completed a 3rd year practicum at Elmhurst College in the counseling center.  Tamara Levinson, PsyD was my supervisor during that year.  She was dynamic, free spirited, kind, incredibly intuitive, confident, and therapeutically gifted.  She was the one who helped me see that what I thought I needed to accomplish in my training was never going to fit me as a person.  She helped me to see my strengths, embrace them and harness them.  I still look back on my time there and my luck at having her as a mentor and hold her influence as one of the most meaningful and impactful to me.  
If you could go back and tell your younger professional self (25 year old you) one thing, what would it be?
S: If I could go back, I would tell myself to not sweat the small stuff so much and to trust my instincts. I would also cheer myself on and tell myself to keep working hard in my pursuit of my goals and dreams!
H: Ha!  I don't know if I would tell her much.  That was around my favorite time.  I was really finding myself, finding my path, about to meet my husband, taking risks intentionally to challenge myself, and it was crazy scary, so exciting, and so meaningful.  I think even the things I could change I wouldn't because you learn from those things and carry that forward.  I think I would say to enjoy it, be in the moment, soak it in, the future will come, and keep challenging yourself and pushing yourself to grow; which I like to think I've done.
When you started your career did you ever imagine yourself in this position?
S: I always envisioned myself in a private practice setting and being surrounded by a group of warm, kind, supportive and amazing colleagues. So, I guess the answer is yes because that is exactly what happened! I suppose I would tell my 25-year–old self that too! 
H: Yes! I knew my dream job was to work in private practice.  In training, I worked in a Community Mental Health Center, Inpatient Psychiatric Hospital and College Counseling Centers, including Duke's Counseling Center for Internship.  I thought for a moment, that I might really find my home in college counseling, but I wanted to flexibility and independence of private practice.  It's not as flexible as I anticipated when you are scheduling out further than your personal life, but I love it as much as I imagined!  I know that no other setting would come close to what I have at CPA.
What led you to step into this leadership/ownership role?
S: The opportunity to join management/ownership was offered to me back in 2010 by the owners of CPA and of course I could not turn it down! I was fortunate to receive mentorship and support from the experienced members of the management group until they retired, and Heather and I have been an excellent team since then! 
H: I've always been the kind of person who wanted to max out my opportunities and continue pushing myself to learn and take on different challenges.  I shoot for the top rung of the ladder if I can, and leadership is that for me.  To create a working environment that feels fun to go to every morning, to have decision making ability about the direction of my career, to try and create a place that offers to others what I find in it, and hopefully an opportunity to mentor others in a similar way that I received because those lessons and those words of guidance still remain in my head today.
What advice would you give to the next generation of female leaders?
S: My advice is to never give up and to trust your instincts along the way. Stay true to who you and surround yourself with people who build you up and support you.  
H: I think the greatest advice I received was don't strive to be like everyone else, strive to be yourself, the best version of it you can, and you will stand out from the rest.  Create your own goals for yourself and then keep moving them further out when you achieve them.  Don't be afraid to work and work hard, it is true that goals are worth the effort put into them and nothing is accomplished without effort and sacrifice that is meaningful.  Ultimately, don't ever let your fear make decisions for you.  If fear is the only thing stopping, you; then you have to do it.  Growing opportunities always come with discomfort; the payoff is most certainly worth it.
How do you balance career, personal life and passions? Is there such a thing as balance?
S: If there is a way to balance, could you let me know? Just kidding.  My family always comes first but I think that for me, my career and passions intersect and so they become entwined and I find passion and joy in my career. So, if I am not spending time with my husband and son, you will find me working either in the office or at home, meeting with clients or writing evaluation reports, or working on continuing to uphold the strong reputation that CPA has built for itself over the decades.   
H: When I was younger, I was determined you could have it all; why not??  I've learned there is no balance, and no one has it all; women or men.  It's a balance beam you are always teetering on and it's always moving so you never quite get settled.  There are times when your career demands more of your time, energy, focus and periods when your interests and family claim the majority of your resources.  It's always shifting; like the waves in the ocean.  Enjoy the calm, there will be periods of choppier seas, but they pass.  Accept everything won't get 100% of you but you can give the best you can to what's important to you.  Maybe in the end the average is what balances out.  I try my best day to day.  On the harder days I remind myself how lucky I am that there's not a thing on my plate I would cut; I love them too much.   That's the best problem to have really.